Should Pets Be Allowed In The Office?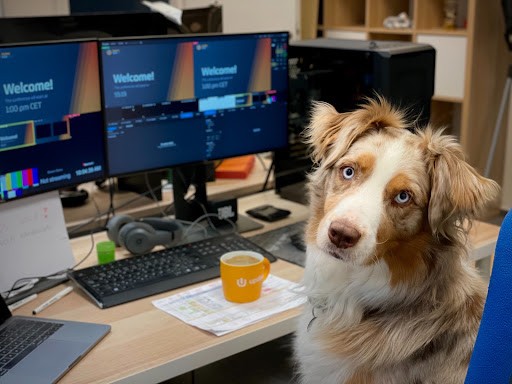 In recent years, more and more offices are becoming dog-friendly, enabling employees to bring their dog to work with them. 
Research has reported that most employees are in favour of having a pet-friendly workplace and in fact an astonishing 94% of people were supportive of having pets in the workplace. For some individuals a pet-friendly workplace is a desirable benefit of an employer, 49% of people reported that a pet-friendly work environment could convince them to take a job offer.  It's likely that statistics like this are making businesses consider the potential to become a pet-friendly workplace as it is now becoming increasingly important for staff retention. 
Related Article: '5 Reasons Employees Leave Their Jobs And how You Can Prevent This From Happening'
What are the benefits of pets in the workplace?
Maintaining proximity to pets has a greater importance than you might think, pets are able to significantly help towards: 
Emotional support
Physical Wellbeing 
Reduced Stress
Better Connections
Better Thinking 
It's clear that having pets in the workplace has great benefits for the people around them. Indeed, 41% of people said that pets in the office would contribute to their sense of satisfaction. 
Readers Also Liked: 'Making Reasonable Adjustments To Support Employee Mental Health'
What about assistance animals at work? 
The acceptance of assistance dogs is widespread, allowing them to assist the individual in most places. With that being said, the same situation does not apply when it comes to assistance animals that are not dogs. There was a situation in March 2022 regarding a man who was refused entry into Sainsbury's with his assistance cat. This cat had been trained as a support to aid his autism and therefore helps to prevent sensory overload. 
The argument is that assistance animals of any kind should be treated the same as a guide dog or any other aid that has been designed to help someone with a disability. Wouldn't acceptance of these assistance animals be a reasonable adjustment under the Equality Act?  This is an important and serious case in HR circles – should assistance cats and other pets alike, be treated like guide dogs?
What is the HR stance on pets in the workplace? 
Much like anything with HR a well-developed procedure and policy are essential to ensure the well-being of all staff members. Therefore, if an office decides to make the switch to a pet-friendly environment, it would be beneficial to outline a policy that covers this. This is essential to provide detail on what is reasonable and what isn't e.g. areas of the office that are not pet-friendly, the quantity of animals allowed in the offices, best practices based on environmental health etc.  Not to mention the legal responsibility of the owner if the dog was to cause any damage or hurt anyone. Unlike assistance dogs who have had rigorous training, domestic dogs may not know how to react in a new office-based environment. 
Or the bigger question of… what if other employees are allergic to certain animals? Or they are frightened of them? 
Should you be considering a pet-friendly workplace or dealing with assistance pets in the workplace, get in touch with Coppice HR by emailing paul@coppicehr.com or calling 07814 008478 for professional HR advice.